There are many other web sites, both Australian and offshore, dealing with various aspects of model railways. These are some that we know of in NSW and the Australian Capital Territory (ACT). Suggestions for others are most welcome, so if you have any ideas or notice a link that is broken, please contact us.
Members' Sites
| | |
| --- | --- |
| | Australian Railway Detail Photos by AMRA NSW member Keiran Ryan (of Peak Hill fame) displays a series of detailed working photos of locos, rollingstock and buildings for the NSW railway modeller. Worth a look. |
| | DRB Workshops, a member's site that provides details of laser cut acrylic and thin plywood kits including O scale red telephone box kits, HO carriage inserts for Lima, Trax and Berg's Hobbies cars, and fettler's sheds in HO and N Scale. |
| | Lambing Flat, by the talented and prolific modeller James McInerney, shows off his HO scale branchline railway. Also see his G scale Rurr Valley garden railway on those pages. Connected to hundreds of other modellers throughout the world via a railway modellers' Webring. |
| | Kieran Ryan Models is a glitzy, energetic site - a bit like the man himself! Full of things to see and do, including the Peak Hill HO prototype layout. |
Artists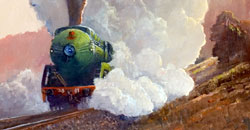 Steam Train Art showcases the work of Frank Mitchell, a fine landscape artist who has diversified into scenes from the steam era.
Many of these colourful, dramatic works are available for sale; or simple browse his onsite gallery of both rail-oriented or other landscape paintings.
Clubs and Conventions
The Newcastle Model Railway Club site is brand new and features numerous shots of their layouts. Like AMRA, they cater for many different scales and prototypes and welcome modellers of all capabilities.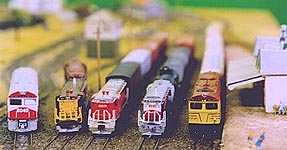 NSW School Students' Model Railway Club site has photos of their HO layout, Sandy Creek (right) and a fantastic animated railway station at the top of the page. (We covet that... anti-plagiarists beware...)
N Scale Page is a must-see resource site for all Australian N scalers, with lots of great links and contacts.
Canberra Model Railway Club is a not-for-profit organisation dedicated to having fun with model railways of all scales, but with an HO club layout that is essentially Australian. Members meet on the first Wednesday of every month in Kingston. The Club runs the annual Canberra Model Railway Expo every April.
Macarthur District Model Railway Club is situated in the Campbelltown (Macarthur) area, south west of Sydney. Members model various scales including HO and N and a wide range of prototypes, with Australian HO being the most popular. A large modular HO layout Macarthur District is the club's main layout.
Hills Model Railway Society, located in Baulkham Hills, has members interested in Australian, American, British, Japanese and European prototype model railways, covering the 3 common scales, HO, OO and N gauge.
Guildford Model Railway Group is an informal collective of rail enthusiasts based in the south-western suburbs of Sydney. The activities of the Group concentrate on the railways of New South Wales in HO scale, especially their exhibition layout Moss Vale, but also include other scales and prototypes.
15th National N Scale Convention View the facebook page at www.facebook.com/NationalNScaleConvention2017. These conventions are run every two years in a rotating system that sees it being hosted in Sydney, Melbourne, Brisbane, Adelaide and Canberra.
Rail Organisations
Heritage Express is operated by the Transport Heritage NSW, located in Thirlmere, a short drive from Sydney, the Museum also has a sales office on Central Station in Sydney.
3801 Limited is a non-profit company running tours of trains to maintain their beautiful rollingstock.
Australian Railway Historical Society NSW Division, operating from Central Station in Sydney, offers extensive archives, a great railway bookshop, an informative magazine, lectures in Sydney and Newcastle and much more.
Australian Railway Historical Society ACT Division operates the Canberra Railway Museum located in Kingston near Canberra. They operate train rides and have recently restored Beyer Garrat locomotive 6029 to running condition, also running is locomotive 3016.
Manufacturers and Retailers
Austrains manufacture injection moulded models of Australian prototype diesel and steam locos and rolling stock.
Anton's Trains supplier of detailing and modelling components under the Uneek, Oz Kits, Oz Control and Oz Flock labels
AR Kits makes quality HO scale Australian prototype model trains and is located in Warwick, Queensland.
Eureka Models manufacture injection moulded models of Australian prototype diesel and steam locomotives, passenger cars and freight stock.
Ian Lindsay Models manufactures Australian railway items for various scales, like the goods shed at left, including O scale animals and details. Available from this site or mail order only. Not a glamorous odyssey but clean and clear.
Iron Horse Hobbies from Yerong Creek is at least an entertaining page! Like Lambing Flat, it is also part of a railway modelling Webring.
Model Trains HO supports Australian manufacturers of HO scale model railway equipment including steam, diesel and electric locomotives, rolling stock, plus trams, trackside structures, cars and buses. Also offers help and information 'for the ultimate model railway'. Free delivery in Australia.
Rakem Emporium for the past couple of years have been designing HO & N scale Custom Cardstock Kits and Custom Signage.

Mountain Blue Miniatures, located in Blaxland, manufacture Australian prototype O Scale (1/48) figures in pewter and detail parts in polyurethane resin. The figures are useful for a variety of historical periods.
N-trains by Ian Alce, is based in Cootamundra and has been seminal in the establishment of Australian prototype modelling in N scale with a variety of injection-moulded, whitemetal and polyurethane rollingstock and other items.
Powerline Models make a range of HO locos and rollingstock but this page functions only as an e-mail point.
TrainOrama make a range of HO locos and rollingstock.
Model railway retailers include: